Check In 15:00 - 18:00 /
Check Out 11:00
To make your stay more
comfortable and relax,
our check-in time is until 18:00.

GORA HANAOUGI
Passing through the gate, a healing space welcomes you. After going through the corridor by the garden surrounded by seasonal plants of Hakone, you will find a chandelier of thousand-pieces lattice that makes you feel the Japanese-style elegance. At the back of the tatami-matted corridor, there is an irori, a traditional Japanese sunken hearth with Jindai zelkova wood. The interior that blends Japanese style with the modern taste is gorgeous like an opening fan. "GORAHANAOUGI", a gorgeous inn at which you can spend a relaxing time.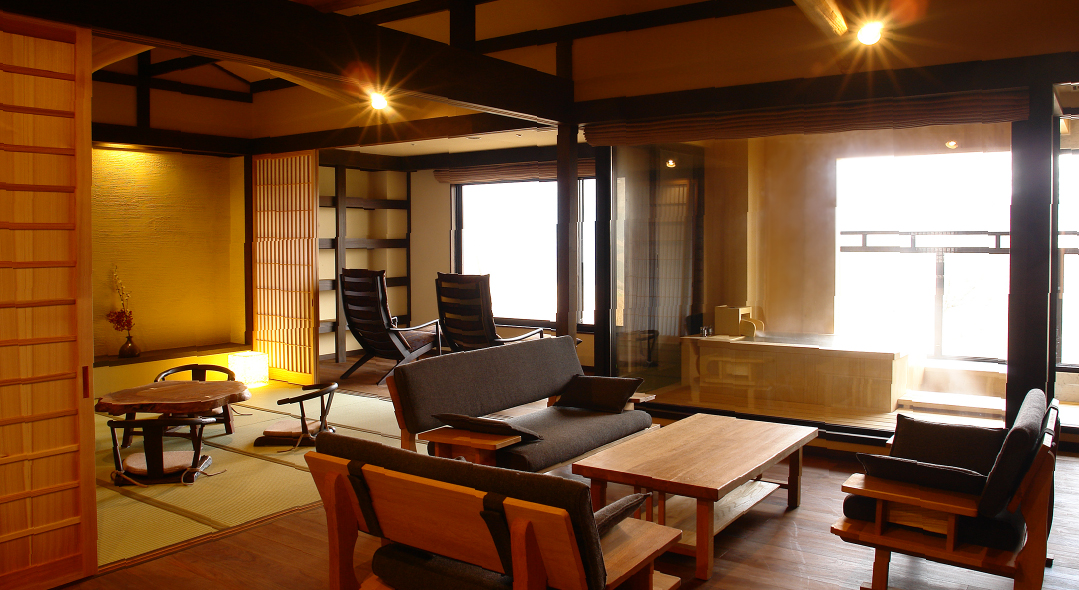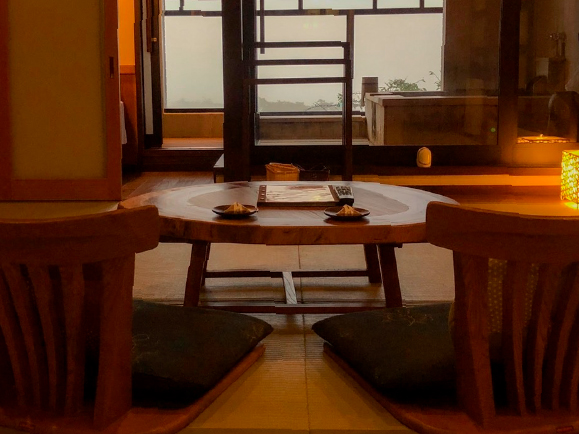 We have equipped all guest rooms with open-air baths such as the one you can have a splendid view of the Hakone mountains, or the one you can feel the season change in Japan surrounded by the forest. In those, you can experience with your body the moment created by the nature of Hakone. Please enjoy a luxurious time with the aroma of the hot spring.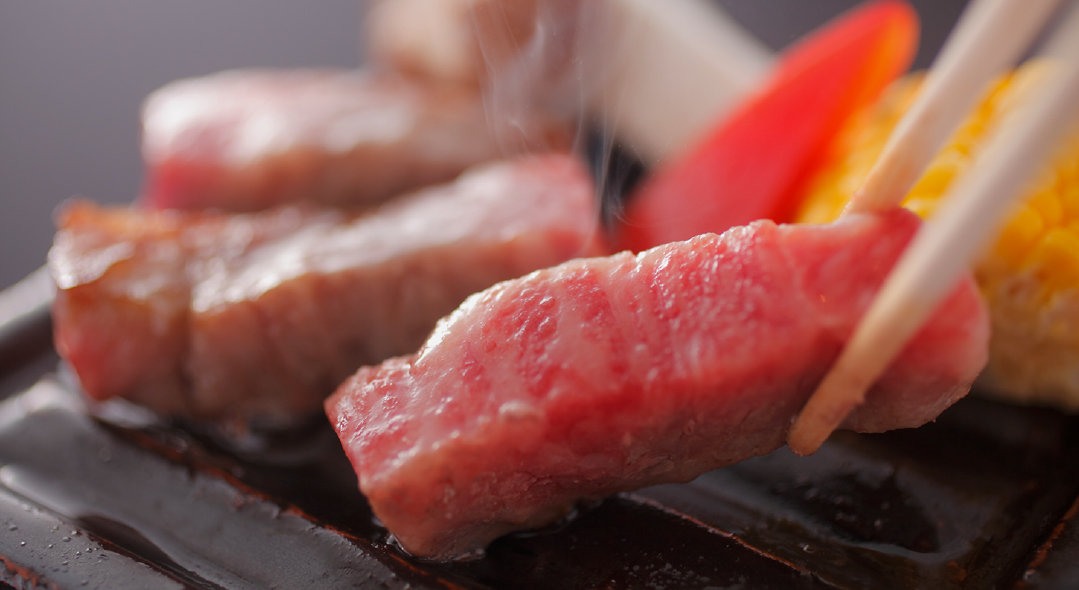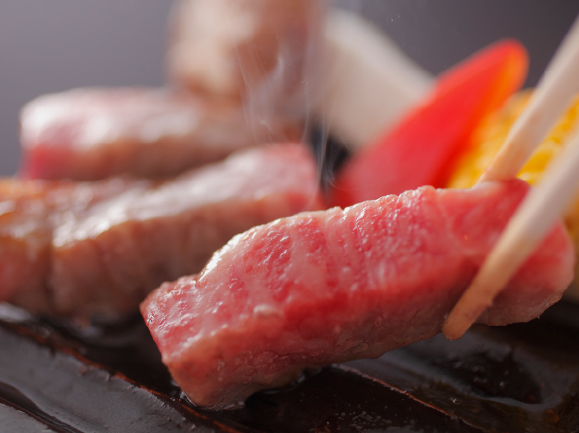 Seasonal Cuisine

Have you ever slept in futon, the Japanese style of bedding? This is a Japanese-style room with futon, the Japanese style of bedding. Please enjoy the atmospheric layout such as Tokonoma, a recessed space in a Japanese-style reception room.
Eating Facility

You can leisurely enjoy your meal in a tastefully partitioned space allocated to each room. We also have a restaurant equipped with the table seats with a beautiful grain and curve, as well as the Japanese style sunken kotatsu.
Special Order for Food and Drink

We offer carefully selected dishes and a wide variety of alcoholic drinks. Please let us know in advance if you have allergies or a dietary regimen. Pesco-vegetarian meals are also available. No other vegetarian meals are available.
Breakfast

The morning welcomes you with the fresh air of Hakone and birds singing. For breakfast, we prepared a variety of selected colorful meals. Enjoy the highest grade Japanese-style breakfast that we proudly present, such as rice, miso soup, and grilled fish.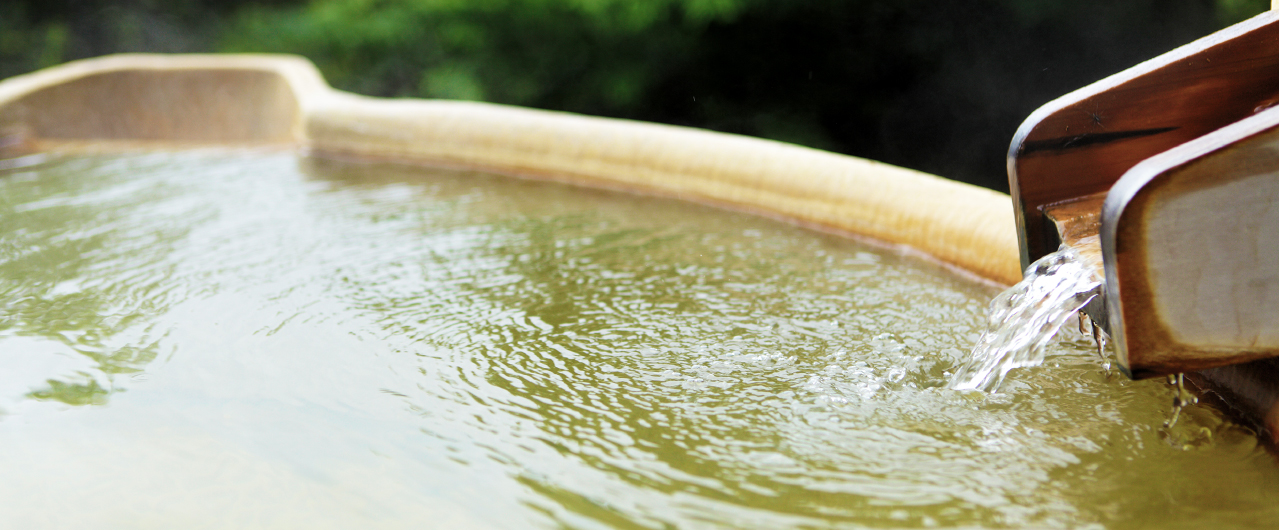 Bathing Time Schedule

15:00~24:00 / 5:00~10:00

The hot springs in our building are known for "alkaline hot spring" whose spring quality is good for beautiful skin. The reddish hot water from the source of Hakone has a smooth spring quality like natural soap, which nurtures beautiful skin.

MEN's Public Bath
UCHIYU – Indoor Bath

It is a large public bath where you can relax and feel the aroma of Gora forest.
ROTENBURO -Outdoor Bath

There are two types of open-air baths. One is a wooden bathtub in kettle bath style. The other is a rock bath made of granite.

WOMEN's Public Bath
UCHIYU – Indoor Bath

It is a space with a wide view where you can enjoy the natural scenery of Hakone from a big window.
ROTENBURO -Outdoor Bath

There are two types of open-air baths. One is a bathtub made of rock. The other is a bathtub made of Shigaraki ware, a Japanese traditional stoneware pottery.
Powder Room.
Facility and Amenity
Natural Water and
Square Bench.
Massage Chair.
Security Box.
Nature of Spring and Benefits of Hot Spring
Name of Source

Gora Hot Spring

Temperature of
the Source

approximately 55.6℃ (We adjust the temperature approximately 40℃)

General
Indication

Neuralgia, Myalgia, Arthralgia, Frozen Shoulders, Bruises, Sprains, Chronic Digestive Organs Disease, Hemorrhoids Sensitivity to cold, Recovery from Fatigue, Promotion of Health

Other Indications

Arterial Sclerosis, The Cuts, The Burn, Chronic Skin Disease

Please experience the relaxation of mind and body by skin therapist.
A time of adult holiday with a lawsuit with technology that puts heart and hospitality in the hands of natural plants and ...